On November 21, 2015 my foster apprentice brother Wistric Oftun became a Master of Defense, a peerage order recognizing his skill, chivalry, and service in the the SCA rapier community. For his ceremony, his friends came together to make him a new suit of clothes based on Robert Dudley's suit in this 1564 portrait.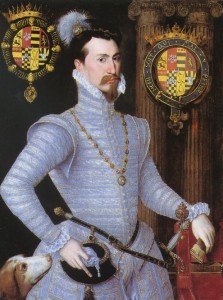 Changes were made due to time constraints and to reflect the Kingdom colors of Meridies.  I had the privilege of figuring out the design and making the doublet. Patterning and the Trunkhose ( pants) were done by Master Lorenzo Petrucci. Hat by Madalena da Firenze (Victoria Ruhl Designs). Ruff set by Renaissance Tailor.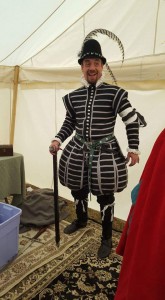 Mathew Gnagy's book, Modern Maker, was used to construct the doublet with alterations to make the finished product closer to the portrait. This was my first time attempting historical men's clothing and his book made it much simpler than I thought it would be. It was made using a combination of hand and machine sewing, though mostly handwork.   All told, the doublet took 64.5 hours to complete.  This is significantly longer than I think it would have taken a tailor in period, but practice makes perfect! I am hopeful that the next one will be faster.  Things learned – Tailors thimbles make an enormous difference, hand basting is beautiful and so much better than pinning!
Materials: Black wool, silver silk taffeta, heavy linen, wool felt, light linen lining. Silk and cotton thread.
Progress photos:
Progress photos of the trunkhose can be found on Master Lorenzo's site:
http://www.dellacivetta.org/lorenzo/clothing/mens-16th-century/dudley-trunk-hose/
The buttons can be found ( along with lots of other awesome buttons) here : www.badbaroness.com