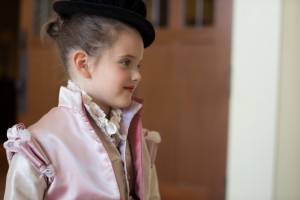 It started as a dress of the 1580's but landed around 1570.  Still, I am happy with the results. More importantly, Little-Bug Loves it; she thinks its a perfect dress for dancing!
The Inspiration
The Results
Things I learned doing this project. 
Sewing for growing children is harder than I thought it would be.  Little-Bug grew 1.5 inches during the course of this project, so I'm glad it still fits enough to be worn. I am even more impressed with 16th century tailor's abilities in creating garments for children before they grew out of them! I was excited to try out hand sewn doublet construction and theories on the Maria de Medici baragoni ( puffed sleeves).
Details of the construction of the gown: 
The Beginning- Camicia
Doublet Part 1, Part 2, Part 3 
Pink Veste 
Credits for work not my own:
Final Photography: Duffy James
Hat: Victora Ruhl Designs
Girdle Belt: Dragonpipes