In Janet Arnold's Patterns of Fashion: 1560-1620 she briefly mentions glue and paper backed appliques.
" The gown is embroidered with black satin motifs and couched black cords. Each motif is glued to a piece of paper to prevent fraying, cut out and mounted on the velvet, then outlined with black cord." (Arnold, pg 111)
Just two little sentences, but they intrigued me! I have a lot of experience with machine applique and using wonder under ( fusible web with paper backing) and I was anxious to try this 16th century version. For the glue I decided to go with hide glue.  Various pastes are also period, but I have been told that they can attract bugs.  Tightbond hide glue was easily purchased at Ace Hardware so no waiting for delivery!
1) I used a makeup sponge to apply a thin layer of glue to paper and let it dry.  I just used some paper I had on hand.  In my dreams I would be using 100% linen rag paper, but that's pretty crazy expensive.  For costuming applications of this, I will be using 100% cotton rag paper.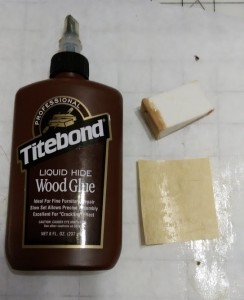 2) I put the glue side of the paper to the back side of silk satin, then ironed it on high heat with steam until the glue reactivated enough to stick.  Let it cool / dry.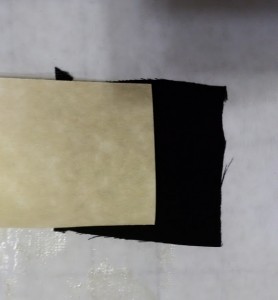 3) Draw the applique design in reverse.  Apply a thin layer of glue to the back of the silk and paper combo. Let it dry.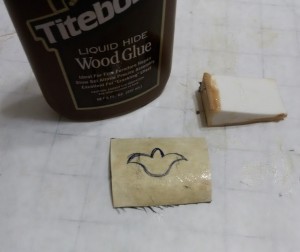 4) Cut out the design. ( Not with my fabric scissors! Using sharp paper scissors.) Ironed it on to the velvet ground fabric. Let it dry.  From there I was able to do the applique using couched Japan #7 and silk thread.  It was SO easy!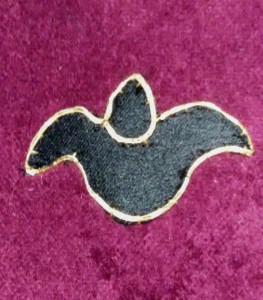 Observations. 
I need a lot more practice with goldwork and applique before doing this on an actual garment.
The appliques don't stick forever, just long enough to make sewing them down easier.
I'm pretty sure this will cut the time required to do an appliqued garment in half!
I tested leaving an appliqued piece in the HOT car in humid summer weather and there was no sticky glue bleed through.
Try as I might, Its impossible for me to crease the applique by bending it.  This will be super handy for garment application as I suspect it will hold up well to being worn.
Its not  pleasant smelling, but the smell has dissipated over a couple of days since completion.
Outside Sources 
Arnold, Janet. Patterns of Fashion: The Cut and Construction of Clothes for Men and Women, C1560-1620. London: Macmillan, 1985. Print.